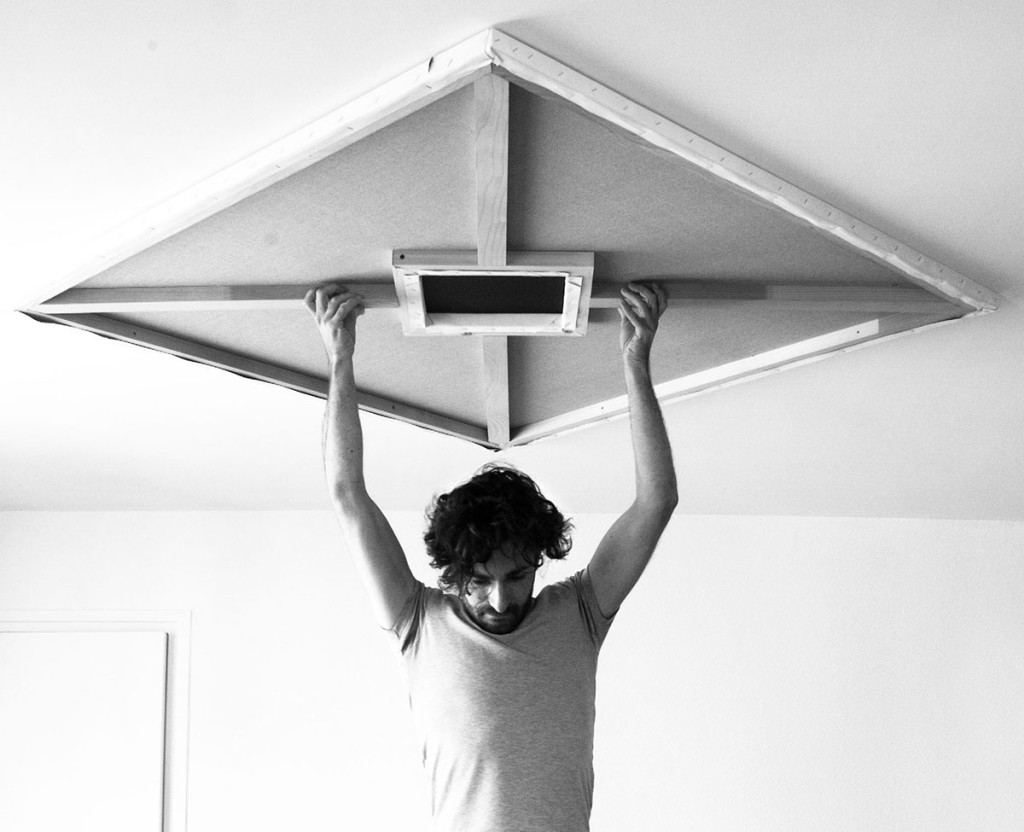 Quentin LEFRANC (1987)
Formé à l'école d'art de Rueil-Malmaison puis à l'école des Arts Décoratifs de Paris, Quentin Lefranc crée des pièces qui ne sont pas tout à fait peinture ni sculpture, ni même architecture. Dans l'ensemble de ses propositions, c'est un peu de tout cela dont il s'agit. C'est avant tout la question de l'espace qui l'intéresse et qu'il met en pratique sous diverses formes : questionner l'existence même de l'œuvre, comme dans le walldrawing «Pas d'image» (CNAP), le parcours de l'exposition, à travers des barres d'obstacles repeintes (Parcours (sans erreur), 2014), ou encore le dispositif scénique du tableau comme dans «Arrangement en noir et gris» (2013). À chaque fois, ce n'est pas tellement l'assemblage d'un objet, mais la mise en place d'une zone qui est proposée. Il n'en résulte pas un élément fini, plutôt quelque chose en train de se faire ou de se défaire. Dans ces constructions en devenir, il n'y a plus d'image, il n'y a plus de cadre, juste un fragment d'espace ouvert. Ces dispositifs sont un moyen de provoquer une confrontation physique avec l'idée du tableau, dont la lecture se déploie.
After studying at the Art School of Rueil-Malmaison and the School of Arts Décoratifs in Paris, Quentin Lefranc creates art works that are not quite paintings or sculptures, not even architectural elements. It is about all of that, in each of his propositions. He focuses on questioning space and does so through diversity: by questioning the existence of the work itself,
as in the wall drawing entitled «Pas d'image»(no image, CNAP), the exhibition's visit as a journey with painted jumping poles (Parcours (sans erreur), 2014), or the scene of a painting as in "Arrangement in black and grey" (2013). Rather than creating an assembled object, every single time is about setting up the zone that is offered. No finished element comes out of it, instead is unveiled something that is currently being made, or unmade. In these potential constructions, there is no image, no frame, only a fragment of open space. The works are used as a means to provoke a physical confrontation with the idea of an unfurling painting. 
Actually
16.06 – 30.09.2017    Le HUB, Nantes, Supplément, sur une invitation de MPVite.
Solo exhibitions and personal projects
04.01 – 07.01.2017    Galerie Jérôme Pauchant, Paris, EXPOSED II, projet spécifique.
20.10 – 03.11.2106    Paris : Shelves.
13.05 – 18.06.2016    Tom Greyhound, Paris : Arrangement en noir et gris, continuation
05.04 – 05.05.2016    Palais des Paris, Takasaki, Japon, résidence.
03.2016 – 12.2017     Les Bains, Paris : Art-Les bains 2015, Toile(s) au plafond (carré, rond, triangle, croix)
05.09 – 10.10.2015    Galerie Jérôme Pauchant, Paris : Pictures seemed not to know how to behave, solo show.
29.11 – 31.11.2014    LO/A (librairy of art), Paris : Fitting, publication autour de A chair.
19.01 – 09.03.2013    Galerie Métropolis, Paris : Carte Blanche.
09.07 – 13.07.2012    Espace Commine, Paris : Les Déménagements.
06.2010    CNAP, Paris, La Défense : Pas d'image, installation permanente dans les locaux.
Group exhibitions
24.03 – 30.05.2017    Galerie Métropolis, Paris, Dessins Perturbateurs, exposition collective.
28.04 – 12.05.2017    ZQM, Berlin, EX.PDF: Exhibiting exhibited writings.
08.03.2017    Galerie Valerie Delaunay, Paris, Garder le cap.
15.12 – 16.02.2017    Galerie art & essai, Rennes, EX.PDF « Exposer les écritures exposées ».
08.12 – 21.12.2016    T2, Paris : Open.
09.12 – 14.12.2016    67, New York : Proof Of Concept.
30.09 – 05.11.2016    Maison des arts plastiques Rosa Bonheur, Chevilly-Larue : ARCHITOPIE.
01.10 – 31.10.2016    Courbevoie : Nuit Blanche 2016.
18.10 – 26.10.2016    Crédit Municipal, Paris : Relève, exposition collective pour les 250 ans de l'ENSAD.
11.06 – 17.07.2016    Galerie Gilla Lörcher, Berlin, Allemagne : Fabric.
21.05 – 02.07.2016    Galerie de Roussan, Paris : Virage.
18.05 – 21.05.2016    Galerie Bernard Ceysson, Saint-Etienne : 45° N.
07.05 – 15.07.2016    Nozay : NONOBSTANT.
02.04 – 16.05.2016    Palais de Tokyo, Paris : Sarah Favriau, La redite en somme, ne s'amuse pas de sa répétition singulière, session 2, commissariat de Cécile Welker.
01.05 – 05.05.2016    Kyu-Akabane Gaki, Takasaki, Japon : Time Capsule.
21.04 – 24.04.2016    Bruxelles : YIA#06:Brussels 2016.
25.03 – 02.04.2016    L'agence, Paris : Selon la brise de mer de Stanwell Park.
23.01 – 27.02.2016    Galerie Mélanie Rio, Paris : Et quelque(s) espacement(s).
17.01 – 24.01.2016    Galerie Thaddaeus Ropac, Pantin : Jeune Création – 66e édition, prix du Palais des Paris.
11.01 – 25.01.2016    Villa Mallet-Stevens, Paris : Cachet de la poste faisant foi.
30.10 – 08.11.2015    Ateliers 1000 Feuilles, Nantes : Burashi No To, Hanma Chinmoku.
16.07 – 31.08.2015    Galerie 92, Paris : Fill up my wall.
05.06 – 27.06.2015    Galerie municipale Julio Gonzales, Arceuil : 19e prix de peinture Antoine Marin.
24.10 – 31.10.2014    De la charge, Bruxelles : Cryo, intervention dans l'exposition de Maya de Mondragon.
04.08 – 30.08.2014    Galerie de Multiples, Paris : Je préfèrerais ne pas, «non-exposition» collective.
27.02 – 15.03.2014    Galerie Marine Veilleux, Paris : Multipath, commissariat de C. Alfradique.
01.2012    Arts Décoratifs de Paris, Paris : L'Accrochage, commissariat de Mathieu Mercier.
05.2011 – 09.2011     Mairie d'Andrésy, Andrésy : Les Balades en Yvelines, commissariat de Philippe Cyroulnik.
05.2011    Château de la Rueil-Malmaison, Rueil-Malmaison : Je est autre.
Education
2013    Arts Décoratifs de Paris : Section Art–Espace – Diplômé avec les félicitations du jury.
2011    École d'Art de Reuil-Malmaison : Diplôme National d'Arts Plastiques (DNAP).