Carroyage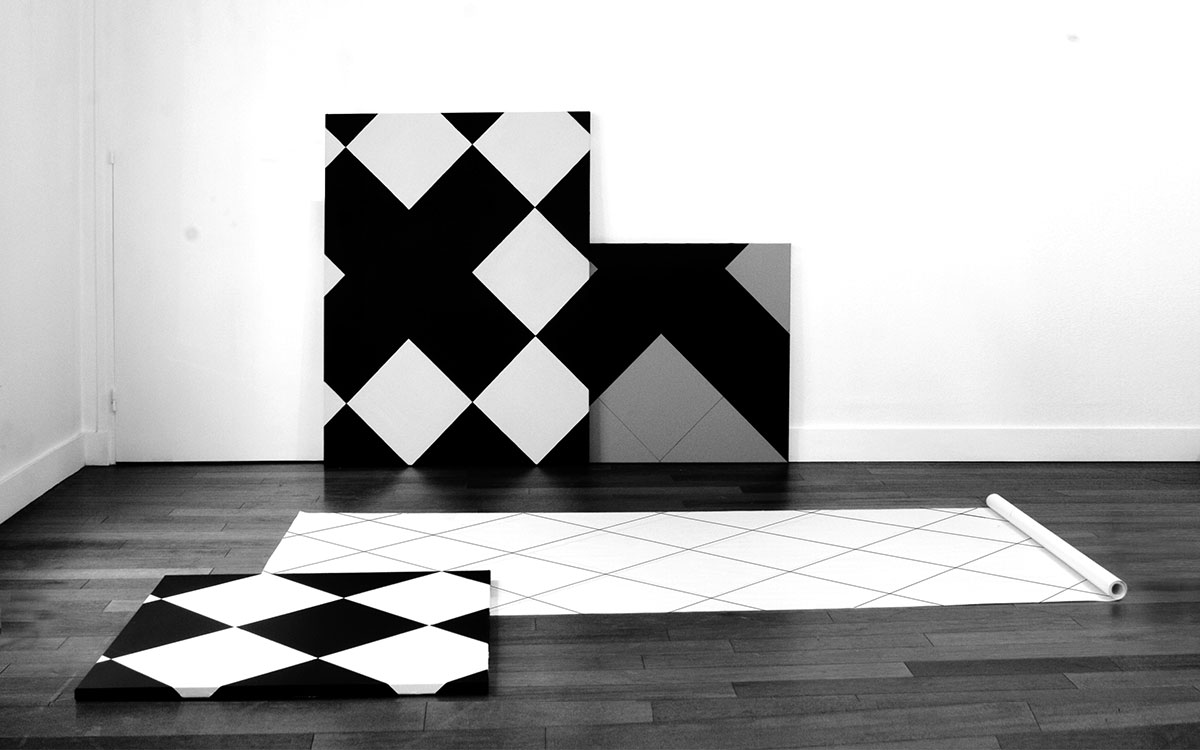 A painting can be considered as an arrangement of several elements. It is as much a question of determining what must be on it, than thinking about the ways in which heterogeneous objects can coexist and come across each other. All of the elements enable the creation of a space. The proposal would consist in creating a pictorial proposal that stems from a place.
All of the fragments enabling the construction of a space will be borrowed from other paintings. I will select elements from our cultural history and insert them in defined contexts. It's not only about reproducing pre-existing elements and inserting them in space in order to reproduce a décor, but to find a way to frame a pictorial space through this particular process. The idea is not about setting a décor from a painting or an exhibit through the structure of a place. But to show a pictorial space being created through the idea of incompletion, much like a thought being formulated. If one considers a painting like an assembly of details. What I try to develop is the gestation period of the ensemble through the development of several fragments before they become an image. The final image must never be produced. One must stay in this space where thought is being created.
The painting isn't assembled, but all the elements, documents/pictures/fragments enable the space to be in a state of "preexistence". (2014)
Trois toiles tendues sur châssis, peinture acrylique, papier, 89 x116 cm, 73 × 100 cm, 80 × 80 cm, la dimension du rouleau de papier est variable, juillet 2014.
—
A painting can be considered as an arrangement of several elements. It is as much a question of determining what must be on it, than thinking about the ways in which heterogeneous objects can coexist and come across each other. All of the elements enable the creation of a space. The proposal would consist in creating a pictorial proposal that stems from a place.
All of the fragments enabling the construction of a space will be borrowed from other paintings. I will select elements from our cultural history and insert them in defined contexts. It's not only about reproducing pre-existing elements and inserting them in space in order to reproduce a décor, but to find a way to frame a pictorial space through this particular process. The idea is not about setting a décor from a painting or an exhibit through the structure of a place. But to show a pictorial space being created through the idea of incompletion, much like a thought being formulated. If one considers a painting like an assembly of details. What I try to develop is the gestation period of the ensemble through the development of several fragments before they become an image. The final image must never be produced. One must stay in this space where thought is being created. The painting isn't assembled, but all the elements, documents/pictures/fragments enable the space to be in a state of "preexistence". (2014)
Three canvas stretched on frame, acrylic paint, paper, 89 x116 cm, 73 × 100 cm, 80 × 80 cm, the size of the paper roll is variable, July 2014.